Running Group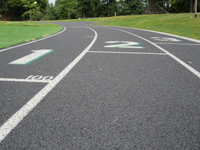 Finish off the Day with a Running Workout!
Whether you are training for a distance endurance event (e.g. 5K /10K or half / full marathon) or just want to add some variety to your fitness program, track workouts will give you the boost to your speed and endurance that you need to take it to the next level.  Being in a group setting, helps with motivation not to mention the sharing of the laughter and hard work.  Boost your brain power while increasing your fitness level, improving your technique, and building strength to prevent injuries.  All ability levels welcome.
Group Training Details
Days: CONTACT Brian FOR TRAINING DAY DETAILS
Time: 6:35 pm – 7:35 pm
Meeting Location: West Seattle High School/Hiawatha Park
Monthly Rates
1 Session / week = $40 (+Tax)
Drop-in Sessions = $15 per session (+Tax)
FOR MORE INFORMATION, e-mail Brian at brian@2ndnaturewellness.com or call (206) 257-8639.
What to Bring
Come dressed in layers as you will get warm even on the cold days.  A water bottle and towel are always a must and head wear and gloves for those brisk mornings.  Bring a snack for after the workout as well.
Training Quotes
"Great fitness trainer.  He knew my limits better than I did and pushed me to them without pushing me over.  Very rewarding experience both physically and mentally."

"He showed me that running can be fun!"

"He kept motivating me to push myself and better myself when I needed it most."